res.o.lute (rez`e loot`), adj. firmly or strongly determined.
syn. fixed, persevering, resolved, unwavering.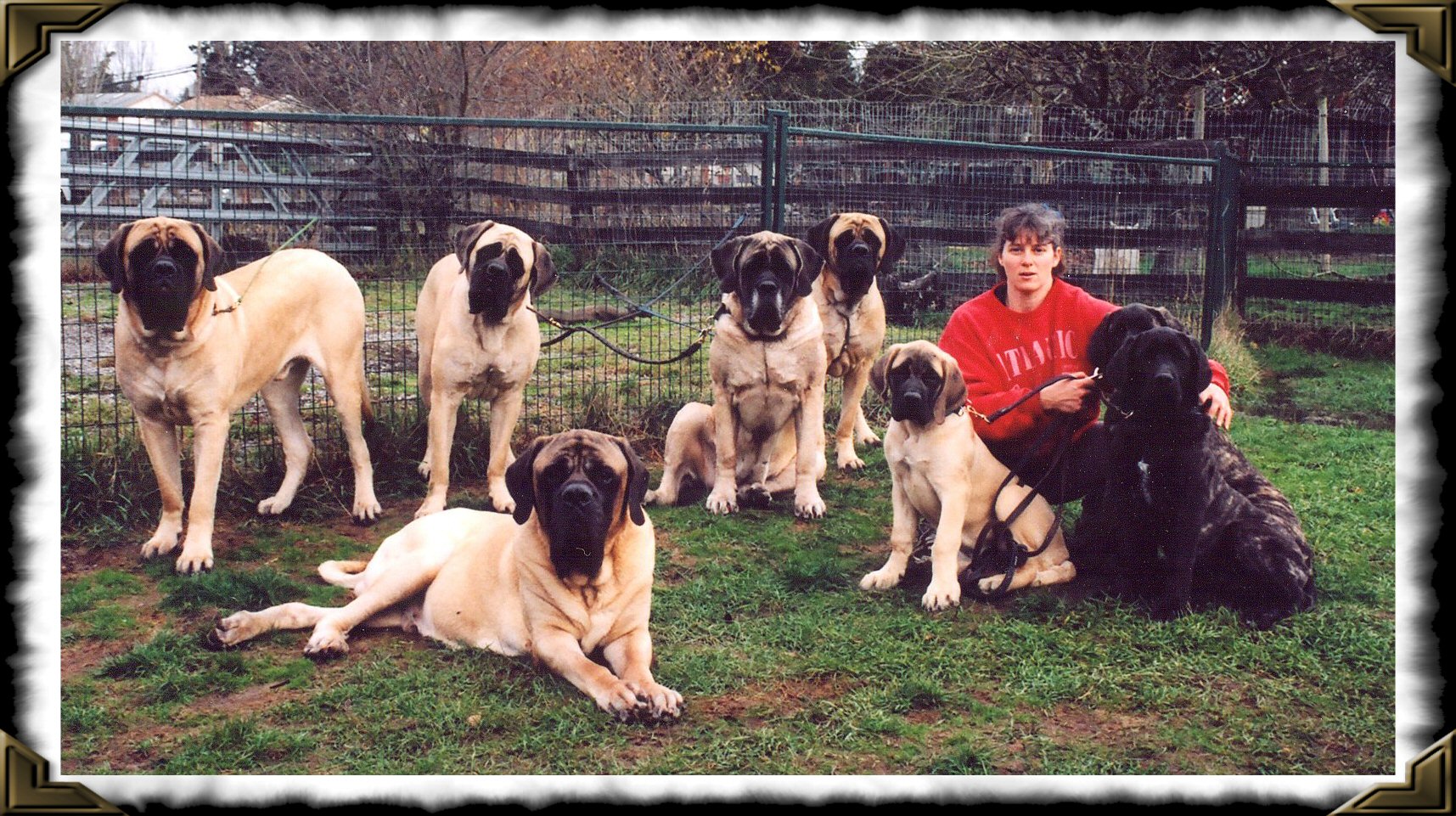 Resolute is the CKC Registered Kennel Name belonging to me – Shannon Low. I live in the beautiful Columbia Valley near Cultus Lake BC, on Canada's West coast. I am an AFA Certified Farrier and have recently retired from a career of shoeing horses for over 20 years. I have studied structure and movement in horses and dogs for virtually all my life, and have a continually expanding library. I am always available to mentor anyone who is intent on learning about Mastiffs and canine or equine conformation. Please go to the BREED INFORMATION page for a list of suggested reading on: anatomy, movement, breeding, genetics, and our chosen breed.

I qualified for breeder of the year with my first litter, and with very limited showing, have bred and owner handled to the top 5 in Mastiffs for several years running. I am breeder/owner/ handler of over 25 Championship titles to date in the USA and Canada, in addition to over a dozen other titles and awards, and countless Group and Specialty wins. Best Bred By Exhibitor wins at National Specialties include: MCOA BBE Dog 2002; MCOA BBE in Show 2004; MCOA BBE Bitch 2006; CMC BBE in Show 2006; CMC BBE in Show 2008. My dogs have been used as educational examples for several judges seminars and many public education displays.

I am a member in good standing with the CKC, PNMF, CMC and MCOA, and am involved in education, conformation, obedience, carting & sledding, and occasional breeding. I am an active member and participate in Club activities and select moderated Mastiff email lists; however I do not participate in chat rooms as they are often a place for people to be defamatory and verbose without knowledge or accountability.

Committed - Dedicated - Involved

photo by Ellice Hauta

| | |
| --- | --- |
| | Resolute produces litters only occasionally. We believe in quality, not quantity, and we do have a waiting list. |
| | We are happy to answer any questions or help in any way ~ whether you buy a puppy from us or not. |
| | We will mentor your involvement in the breed, and guide you in whatever endeavours you choose, with ringside assistance wherever possible. |

If you would like more information about Resolute, please feel free to contact us:

| | |
| --- | --- |
| | phone – (604) 858-3100 |

Sarah Culver photo

All photos on this website are the work of Shannon Low except where credit has been given wherever possible.