If you are very lucky
Once in your lifetime
May come a being
So gentle and honest
That you are changed
Forever.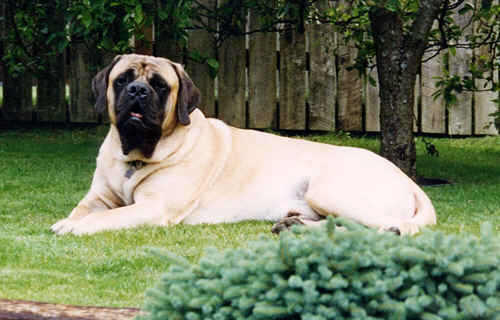 AM CAN INT'L CH Sugarfoot's Shot In The Dark AM CAN CD TT CGC TDI
"BUCK" May 8 1993~December 25 2003
Such a beautiful soul;
Loyal, devoted, patient;
My sweet pea, my special pony.
So intelligent;
We always knew what we each were thinking.
Quickly skilled in each endeavor,
You would do anything for me.
A true ambassador of the breed;
You had type, size and soundness,
But above all, you possessed a perfect temperament.
Unquestionably solid, patient, gentle – I trusted you with my life,
Always.
Love, Shannon
My sweet Bucky has left us. He died in his sleep on the afternoon of Christmas Day. Buck was one of those – once in a lifetime – dogs who left his mark on nearly everyone he met. He made the world a better place. I love him so much ~ he will always hold the dearest place in my heart. He was 10 ½.
Am Can Int'l CH Sugarfoot's Shot In The Dark, Am Can CD, TT, CGC
Buck is a sweet Mastiff with personality plus! He makes friends wherever he goes (human and canine). He is extremely popular with Judges, exhibitors and Mastiff fanciers, and is a true ambassador for the breed.
Buck is a top scoring obedience dog, he pulls a cart and carries a pack, and he finished all his championships in short order. A multiple group placer, but never campaigned, Buck was Canada's # 3 Mastiff for 1996. His effortless gait clinches his performance with a smooth, powerful, ground-covering stride.
Buck is a big boy; long and deep in body. His topline is hard and level, he has excellent angulation, and correct bone structure from all angles. He has a beautiful, broad head with exemplary proportions; a strong, broad muzzle, and wide nostrils. His eyes are tight and dark, and set wide apart. He has a nice wrinkle, not overdone. He is an exceptional mover, sound and well coordinated. He always sports a beautiful rich fawn coat with a very black mask and ears. His muzzle remains black, even at 9 years of age.
At stud, Buck has passed on his size and type, but most importantly his beautiful temperament and awesome movement. Producer of multiple Group / Puppy Group winners and BPIS.
~ * ~
Buck would do anything I asked of him. He received standing ovations for his obedience prowess. He would never break a sit - stay, no matter how hot the sun got. Locally, we did not have access to Draft Dog testing, but he pulled carts and sleds often, including the horse poop bucket following parades. He packed groceries home on snowy days, and he manned the booth at Pet Fairs and Dog Shows.
Perhaps Buck's greatest legacy was that he will be remembered for influencing many individuals on the decision to involve a Mastiff in their life.
Stats:
| | |
| --- | --- |
| | 220 lbs |

| | |
| --- | --- |
| | AKC# WP482294/02 |

| | |
| --- | --- |
| | OFA# MF –2264G35M –T |

| | |
| --- | --- |
| | 34" tall |

| | |
| --- | --- |
| | CKC# 1050830 |

| | |
| --- | --- |
| | OFEL MF –EL417 –T |

| | |
| --- | --- |
| | Born May 8/ 93 |

| | |
| --- | --- |
| | Bite slightly undershot |

| | |
| --- | --- |
| | CERF 7/ 12/ 98 |

| | |
| --- | --- |
| | Color Fawn |

| | |
| --- | --- |
| | TT# 730444 –95 –01 |

| | |
| --- | --- |
| | PRA DNA Neg 02-2962 |

| | |
| --- | --- |
| | Cystinuria Neg |
Sire: Am Can CH Moonstone's Noblest Rasputin
Dam: Glenwood's Magic Mist
Breeder: Sandra & Dave Glaspey
Please visit the Gallery to see more pictures of Buck
| | |
| --- | --- |
| Spring 2003 (10 years) | March 2002 (9 Years) |
| | 2 yrs old Linda Lindt Photo |
| 3 yrs old Ellice Hauta Photo | |
| Linda Lindt Photo | Buck at 18 months |
| | Linda Lindt Photo |
| Jerry Shulman Photo | Linda Lindt Photo |
| 7 weeks | Linda Lindt Photo |